The Best Tapas Bars In Barcelona
Where are the best tapas restaurants in Barcelona? We're glad you asked! Spain and Tapas are as synonymous as Italy and pasta. It's like a national dish, only better. Better because it's not just one single dish, but rather a collection of the best food Spain has to offer. And where better to find great tapas than in the foodie heaven that is Barcelona?
Barcelona is one of our very favorite cities in Europe, if not in the world, and exploring it can be an absolute joy. When visiting Barcelona we recommend that you do so during the off-season months between October and April, as Barcelona has become an extremely popular summer destination.  We also recommend taking at least one of these amazing day trips from Barcelona during your visit. Each one of these fantastic destinations will show you a fascinating bit of Catalonia, and each one is well worth your time.
Now, back to tapas…
The thing all visitors want to know above everything else is where they can find the best tapas restaurants in Barcelona. So, we're going to help you discover some of Barcelona's hidden gems. By the time you finish reading this article, you'll have all of the information you need to satisfy your craving for delicious bite sized food.
But first…
Things to avoid when looking for the best tapas restaurants in Barcelona
There are a few telltale signs to look out for that, more often than not, mean a tapas bar should be avoided. Barcelona is one of the most visited cities in the world, and lots of tourists mean lots of tourist traps. We're going to help you avoid them. The first way to avoid the bad tapas restaurants in Barcelona is by never (and we mean never) eating in one of the places on Las Ramblas. While the touts might make it seem like a good deal, the food is often reheated from the freezer and the drinks are extortionately expensive. You are better off ordering a Donner Kebab or something from a street vendor than blowing chunks of your Barcelona travel budget on such low quality, tourist – trap, food.
The second big no-no is the 'buffet' style tapas restaurants in Barcelona, the ones where you pay a fixed price for an all-you-can-eat arrangement of things they call "tapas". You will never see a self-respecting Spanish person eating in one of these places. They are completely overpriced and offer food that barely resembles tapas. AVOID these at all costs.
Signs you've found a good tapas placed
While any one of these signs alone doesn't necessarily mean you've stumbled across a good place to start filling up on tortilla, they do mean you're looking in the right direction. Is the main language being spoken inside Spanish or Catalan? It's common sense really but if a place is full of locals, then the chances are it's good. Can you order hot tapas from a menu? Some places will only offer a limited selection of cold tapas which sit on the bar. Not necessarily a bad thing, but we are looking for the best tapas restaurants in Barcelona after all. The best places will have a selection of hot and cold tapas.
And finally, do they have good wine and cold beer? What's tapas without a nice glass of something nice to wash it down with, right? Now that you've been armed with some tips on finding great places to eat in Barcelona, let's go one step further. Below you will find our picks for  five of the best tapas restaurants in Barcelona. These aren't the only great places to get high quality tapas, but all five are guaranteed to satisfy even the most demanding of foodies. You can't go wrong with any of these choices.
The Best Tapas Restaurants in Barcelona
El Xampanyet
Personally, we think El Xampanyet is one of the best tapas restaurants in Barcelona, if not the best. We absolutely love it and it's the one we recommend people visit if they can only visit one. Just take note that it's closed on Sunday afternoons and the whole day on Monday. The menu changes slightly depending on the season but one of our favorite dishes is Pulpo a la Gallega (Galician style octopus). But there are plenty of great tapas dishes to try.
Aside from having amazing tapas, El Xampanyet is famous for its Cava. Cava is sparkling wine from Catalonia and is registered as a Designation of Origin (DO) product. That means nowhere else in the world apart from Catalonia can produce it and call it Cava. El Xampanyet produces its own and, not only is it delicious, it's also pretty cheap!
Local food and local wine, does it get any better? Bon apetit!
Bodega Biarritz
Bodega Biarritz is located on the edge of the Barri Gòtic (the Gothic Quarter). It's rustic yet stylish interior is in perfect keeping with its surroundings in one of the most beautiful areas of Barcelona. While you may find a few more tourists here than you would in El Xampanyet, that's not without good reason. Bodega Biarritz has a quirky system of ordering which we think is great, especially for people who like trying new things.
If you are traveling with another person we highly recommend  that you order a surprise sharing menu for two people. The menu consists of 8 different tapas dishes which will be chosen for you by the waiters. They will bring each tapa one by one so you get the chance to enjoy each while it's still fresh. If you don't like a particular dish, you can say no and they'll bring you a different one until you've had 8. In our opinion you should at least try everything they bring. That's why we love Bodega Biarritz so much, you can really explore new flavors and discover new things that you might otherwise not have tried.
We recommend you get the surprise sharing menu with Jamón Ibérico (Iberian ham) to start. Jamón Ibérico is one of Spain's most famous exports, but if you want to try one of the best you need to visit Bodega Biarritz.
Cervecería Catalana
Cervecería Catalana truly is one of the best tapas restaurants in Barcelona. And you can tell that by how many locals pack the place out after work. It's not always easy to get a seat right away, especially if your group consists of more than 3 or 4 people, but the wait is worth it. Like all of the places on this list, Cervecería Catalana has a huge selection of tapas to choose from. The solomillo con foie (sirloin steak and foie gras) is a very popular choice, you'll see a lot of people eating it.
But our favorite things to order are Calçots. They are a type of scallion, or green onion, that is extremely traditional in Catalonia. Like cava, they are a Designation of Origin (DO) product and can only be grown in this region.
At Cervecería Catalana the Calçots are prepared the traditional way, by roasting them on an open fire until the outside is charred, almost burnt. You then pull the inside of the onion out which is perfectly caramelized and sweet. Dip it in salsa romesco (romesco sauce), which is another typical Catalan product, and enjoy its smokey, sweet taste.
Ciudad Condal
Just a few blocks down from Cervecería Catalana you'll find Ciudad Condal. It's another hot-spot for locals after the working day is over, and well into the evening hours. Like all of the best tapas restaurants in Barcelona Ciudad Condal can get really busy, so be prepared to wait to be seated. As we said before, if a place is busy with locals the chances are it's going to be good. A lot of the tapas you'll find here are quite traditional, which is one of the reasons it made this list. While new, more upmarket tapas restaurants have their place, it's nice to have something more traditional sometimes. The Pimientos del Padrón (Padrón peppers) are outstanding.
It's such a simple dish but is just perfect as a light snack with a cold beer. The peppers are fried and dressed with olive oil and salt. Nothing more, and yet there is an elegant perfection in the simplicity of this tapas dish.  The peppers are a perfect balance between smokey, salty, sweet and bitter.
They aren't spicy, however, they do say that every once in a while you'll find one that is as spicy as a jalapeño pepper. We're yet to find a spicy one though. Myth or fact? Who knows, but it's worth finding out!
Carrer de Blai
Carrer de Blai isn't really a single tapas restaurant. It's more a collection of bars and restaurants. There is a street that runs through the neighborhood of Poble Sec called Carrer de Blai, otherwise known as the "pinchos street". Pinchos are slightly different from tapas. They are pieces of bread with different toppings. It's a tradition in the north of Spain, particularly the Basque Country, but they have recently become popular all over the country.
You'll find a lot of places on Carrer de Blai with large selections of pinchos sitting on the bar, each with a toothpick or cocktail stick in them. The idea is to help yourself and save the sticks. At the end, when you want to pay, a waiter will count how many sticks you have and charge you accordingly. The whole street turns into one big bar with everyone outside drinking, eating and chatting with friends. You'll find a younger crowd on Carrer de Blai, often made up of students.
Our recommendation here is to hop from one bar to the next and eat/drink your way from one end of the street to the other until you can barely move. Something a little different but worth a mention when talking about the best tapas restaurants in Barcelona we think!
Barcelona Tapas Tour Experiences
If you're heading to Barcelona and want a truly local experience, there are some great tours available. Everything from small private group tours, through to wine and tapas pairing, and even hitting the town with a local are great ways to explore the best tapas restaurants in Barcelona. Here are a few awesome options!
1881 per Sagardi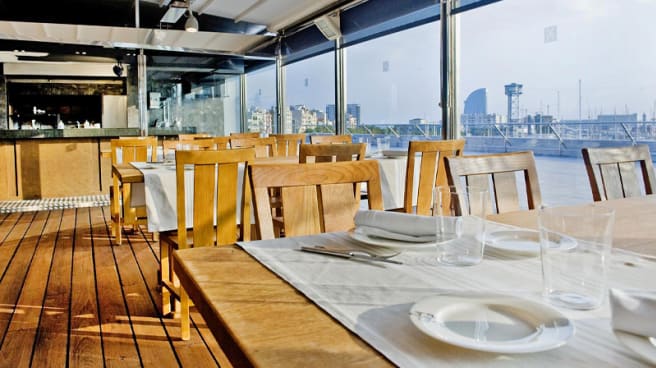 1881 per Sagardi is a bar with a view. It sits atop the Museu d'Historia de Catalunya (History Museum of Catalonia) and is a bit of a hidden gem. You could walk right past it below and never know it was there. The views stretch over Barcelona's port, where only the biggest luxury yachts are moored, right to Montjuic. There isn't a huge variety of tapas available but what there is, is absolutely delicious. It's a bar that focuses on a few things but does them extremely well.
There is also a restaurant inside if you feel like eating more than just a few tapas, but it's the terrace bar that we really love! We recommend their modern take on traditional patatas bravas.
Head to the Museu d'Historia de Catalunya and once inside (admission is free) you'll see an elevator at the far end of the entrance hall. Take it to the top floor and you'll find the bar on your left.
La Pepita
The perfect mix of traditional and modern, La Pepita is one of the best tapas bars in Barcelona. Located in the trendy neighborhood of Gràcia, a more refined crowd than what you'd find in bars along Las Ramblas hang out here. They offer a good selection of both hot and cold tapas as well as great local beer. A testament to La Pepita's hipster style is the writing on the walls, literally. People have written messages on the tiled walls in permanent marker pen, the majority of which are confessing their love for this great little tapas bar.
Just make sure you either arrive early or are prepared to wait for a seat, it's an extremely popular place! Try the smoked aubergine fritters with goats cheese cream, honey and apple for something totally different but out-of-this-world tasty.
Bar Ramon
Bar Ramon is where you'll find traditional, no-frills tapas served every day. It truly is a local haunt, the bar staff speak limited English but don't let that put you off! It's one of the most welcoming bars in the city. If you aren't sure what to choose the waiters are always more than happy to guide you through the menu (in Spanish or Catalan of course), but their specialty is octopus. The overwhelming feeling you get from Bar Ramon is that of friendliness and being treated like a local. If you're looking to really immerse yourself in Catalan culture, then this is the place for you.
Whole roasted artichokes are also on the menu. They're very traditional in Catalonia and something you won't find in a lot of other tapas bars. While this tapas bar's address is technically Carrer del Comte Borrell, 81 you'll actually find it on the crossroad between Carrer del Comte Borrell and Carrer Tamarit.
Bar del Pla
Like most of the really outstanding tapas bars, Bar del Pla gets busy, very busy. They serve a mix of traditional tapas and more modern creations in a bar that resembles an old wine cellar with a low, concave ceiling. It's quite fitting that it feels like an old wine cellar since their extensive wine list is one of the things they're best known for. If you're a wine lover then you will love this place. The wine list is crafted by their own sommelier who is always on hand to help you pair the best wine with what you're eating.
While you might think you know what you like when it comes to wine, things always step up a notch when a professional who knows what they are doing introduces you to new flavors you might not have otherwise tried.
Our suggestion is to eat the croquetas. They do them with squid ink and with ham/roast chicken, both are delicious. It's incredible how they can pack so much flavor into something as simple as a croqueta.